Cooking Method for Lamb Chilli Balti (Serves 4)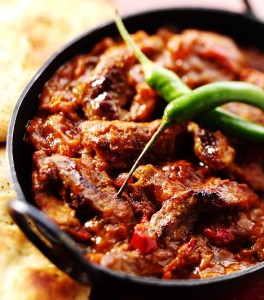 To make the Onion Puree, bring a small pan of water to the boil and add some chopped onions. Boil until soft, drain and puree with a hand blender or in a food processor.Pour the oil into a large saucepan bring up to a high heat. Add the whole mustard seeds and cook until they sizzle and crackle then add the chopped onions and reduce the heat to low.You can optionally add 1 or 2 Whole Star Anise which help bring out the sweetness of the onions and imparts a subtle aniseed flavour but remove them once the onions are cooked. Cook the onions gently and slowly until they turn a golden brown colour.Make a paste of the ginger puree, garlic puree, curry powder, Turmeric powder, Chilli powder, with a little water. Add to saucepan and stir in well and fry for a couple of minutes.
Now add your 800g Diced Lean Lamb cubes stir in well and add freshly sliced greeen chillies.
Mix the Tomato Puree, Onion Puree, together in a jug with the water and pour into the saucepan and mix in well. Turn up the heat until the sauce begins to simmer and leave to simmer for 20 Minutes. Stir occasionally.Finally sprinkle in the Garam masala and stir in well for the final 2 minutes of cooking. Garnish with the Roughly chopped fresh coriander leaves and serve.
Ingredients:
800g Diced Lean Lamb cubes
2 Small white onions finely chopped
2 Teaspoons Ginger Puree
2 Teaspoons Garlic Puree
200g Butter Ghee
2 Teaspoons Turmeric Powder
4 Teaspoons Mild Curry Powder
1 Teaspoon Chilli Powder
3 Teaspoons Garam Masala Powder
1 Teaspoon whole Mustard Seeds
3 Fresh green chillies
4 Tablespoons Tomato Puree
200ml Pureed Onion
Roughly chopped fresh coriander leaves to garnish